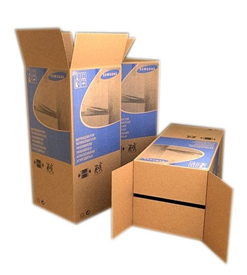 From small FMCGs to large X-Large Cartons for Refrigeration and Washing Machines Centurion packaging also specializes in the design and manufacture of big boxes especially used for the packaging of white goods, that are outside the capability of many corrugate plants - typically between 4 and 6 square meters in size.
Made from single or double wall corrugated board grades, our X-Large packaging covers a wide range of standard and bespoke styles. All of our X-Large packaging can be glued or stitched or a combination of both in order to give the required performance.
Our X-Large boxes are designed to provide the required amount of strength and stability to meet the physical requirements of the product supply chain. The design of the pack, in combination with the selection of the most appropriate grades and materials, will ensure your products arrive at their destination in optimal condition.